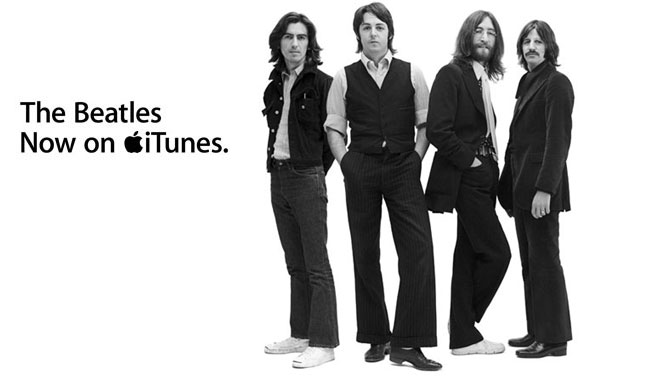 Apple Begins Selling Beatles Music through iTunes
By Adam Satariano and Andy Fixmer | 16 November 2010 | Source: Businessweek
Apple Inc. began offering Beatles songs through iTunes for the first time, ending an almost decade-long stalemate with the best-selling group.
The band's 13 studio albums, along with boxed sets and single tracks are available, Cupertino, California-based Apple said today in a statement. ITunes, music's largest retailer, is selling single tracks for $1.29 and a set of the band's entire collection for $149.
"In 1964, the band that changed everything came to America," Apple said on its website. "Now they're on iTunes."
The absence of the Beatles has been the highest-profile hole in the catalog of Apple Chief Executive Officer Steve Jobs's digital store. The band had kept its focus on physical media, even as a decline in compact discs sent other artists to the Web. Formed about 50 years ago, the Beatles have remained a top-seller, with customers buying more than 30 million albums in the last decade, according to Nielsen SoundScan.
Apple and the Beatles had been embroiled in a long-running legal feud. In 2007, the company and Apple Corps Ltd., the entity that handles the Fab Four's business affairs, settled a trademark dispute about the apple name and logo.
"It has been a long and winding road to get here," Jobs said in the statement.
Single albums cost $12.99 and double albums are priced at $19.99, Apple said. The albums also will feature unique mini- documentaries about their creation.
Complex Ownership
Ownership of the Beatle's music catalog rests with various parties, including surviving members of the band Paul McCartney and Ringo Starr, as well as Yoko Ono and Olivia Harrison, the widows of John Lennon and George Harrison. The band's record label EMI Group Ltd., Sony Corp. and the estate of Michael Jackson also control some rights.
"The Beatles music is one of the most complex sets of copyrights and ownership situations in the entire history of the music industry," said Aram Sinnreich, a media professor at Rutgers University, who follows the music business.
EMI and its owner, Terra Firma Capital Partners Ltd., will see a much-needed boost as it faces debt payments to Citigroup Inc., which helped pay for the 2007 acquisition, Sinnreich said. The Jackson estate, also grappling with debt amassed by the late pop singer, also will benefit, he said.
Apple will sell digital versions of the Beatle's music exclusively into 2011, said Dylan Jones, a spokesman for EMI, without being more specific.
Sales Value
Adding albums such as "Sgt. Pepper's Lonely Hearts Club Band," "Revolver" and "Abbey Road" to the iTunes library will be "easily" worth more than $100 million in sales, Sinnreich said.
ITunes, introduced in 2001, is the largest destination for buying music in the U.S., bigger than Wal-Mart Stores Inc. and Amazon.com Inc., according to NPD Group Inc.
The Beatles had the best-selling stand-alone album between 2000 and 2009 with their collection of greatest hits called "1," which sold 11.5 million copies, according to Nielsen SoundScan. They are the top-selling band in history, with more than 1 billion albums sold worldwide, according to London-based EMI.
Apple may be able to invigorate digital download purchases, which have slowed mainly as a result of reduced spending by consumers 35 years and older, said Russ Crupnick, an analyst at NPD Group. The question is whether people who already own Beatles music will download another copy from iTunes, he said.
Too Late?
"Many of us have already ripped their entire catalog from CDs," Crupnick said. "This is really going to depend on whether it's the equivalent of what the Michael Jackson events were for Sony last year, or if they are a bit late to the party."
Jackson was the top-selling artist last year following his death, according to SoundScan.
Before today, Beatles material found its way online as a popular target on illegal peer-to-peer file-sharing sites, said Eric Garland, CEO of BigChampagne, which tracks consumption of media online at legal and unauthorized websites.
"For more than a decade, unauthorized copies of the entire Beatles catalog have been available and popular online, but your only legitimate option to buy the music was on CD," he said.
The rock band AC/DC is among artists who have kept their music from being sold through iTunes, where the range of prices is set by Apple.
Apple fell $4.54 to $302.50 at 12:29 p.m. New York time in Nasdaq Stock Market trading. The stock had gained 46 percent this year before today.
Adding the Beatles won't cure the ills of the music industry, which has faced a decade-long slump in album sales, said Mark Mulligan, an analyst who tracks the music industry for Forrester Research.
"The digital music market (and the young music fans record labels' desperately need to get engaged) need new music products, not yesteryear's hits repackaged," Mulligan said today in a blog post.
Visit The Beatles iTunes homepage »


Editors: Lisa Wolfson, Nick Turner
To contact the reporters on this story: Adam Satariano in San Francisco at asatariano1@bloomberg.net; Andy Fixmer in Palm Springs, California, at afixmer@bloomberg.net
To contact the editor responsible for this story: Tom Giles at tgiles5@bloomberg.net; Anthony Palazzo at apalazzo@bloomberg.net