A Look at the Beatles Anthology 3 – Disc One
By Marvin J Markus | Published: November 2008 | Source: Art & Entertainment
I enjoy every era of The Beatles career but my very favorite Beatles album is The White Album and that may be why my favorite disc of The Beatles Anthology series is disc one of Anthology 3.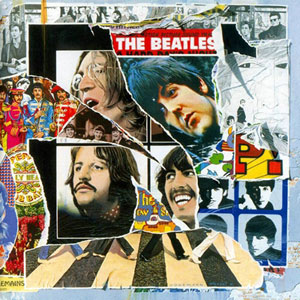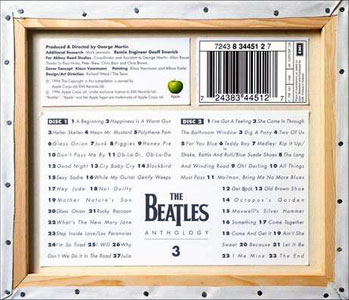 Many of the songs on disc one of Anthology 3 are from The White Album. This article takes a track by track look at each of the 27 tracks on disc one
1. "A Beginning" – This orchestral piece composed by The Beatles producer George Martin was originally meant as an intro for the Ringo sung (and Ringo written) "Don't Pass Me By" on The White Album. I'm not a huge fan of this track but it works reasonably well as an introduction to Anthology 3.
2. "Happiness Is a Warm Gun" – This is a very basic demo version of one of my favorite songs on The White Album. It's fascinating to me to hear such a stripped down basic early version of this song. It's interesting to me as a way of looking into John Lennon's creative process.
3. "Helter Skelter" – A very different version from the one well known on The White Album. Very slow like a death march. In some ways I think it's even more intense than the final version. Although I do think they made the right choice in going with the faster version.
4. "Mean Mr. Mustard" – A very cool home demo made by John Lennon. As it's such a simple song anyway this is pretty close to the final version. Note "sister Shelley."
5. "Polythene Pam" – Another home demo. I like hearing these early simple versions of these songs.
6. "Glass Onion" – Includes some bizarre gibberish from John Lennon.
7. "Junk" – This song wasn't ever released as a Beatles song. It wasn't released until Paul McCartney put it on his debut solo album in 1970. I like this version of this song a lot. It has a simple beauty.
8. "Piggies" – Pork Chops!
9. "Honey Pie" – The Beatles take on music hall style music.
10. "Don't Pass Me By" – Definitely not one of The Beatles best moments but it's enjoyable enough. Even on The Beatles not so great songs there's usually some cool bits hidden in there. I like the drumming on this one.
11. "Ob-La-Di Ob-La-Da" – This has a strange sort of sound in comparison to the version people are most familiar with from The White Album. It's hard to pinpoint what exactly makes it sound strange. I always notice the missing "ring" & "foot" backing vocals.
12. "Good Night" – Another not so great moment. Sorry Ringo! Although I think this one is more John Lennon's fault (he wrote it.) This is one of the few Beatles songs that has never really grown on me.
13. "Cry Baby Cry" – Excellent. Not as good as the version on The White Album but still very good and there's some neat bass sounds on this one we don't hear on the final version.
14. "Blackbird" – Great song of course.
15. "Sexy Sadie" – I like this version a lot. It may be on par with The White Album version.
16. "While My Guitar Gently Weeps" – This is one of the highlights of Anthology 3. While I definitely prefer the heavier version on The White Album what I like about this is getting to hear such a different vision of this song.
17. "Hey Jude" – Cool version. I kind of like that the "nanana" doesn't go on forever like on the official version.
18. "Not Guilty" – This song wasn't released on a Beatles album. In fact it wasn't released at all until George Harrison put it on his self titled album in 1979. I dig the guitar sounds on the outro a lot.
19. "Mother Nature's Son" – Nice.
20. "Glass Onion" – Cool version of a great song.
21. "Rocky Raccoon" – I've always enjoyed this alternate version of this fun song. The flubbed lyrics make it all that much more enjoyable.
22. "What's The New Mary Jane" – This song is absolutely insane which is why I love it. It was never released officially until Anthology 3.
23. "Step Inside Love/Los Paranoias" – "Step Inside Love" is a song that McCartney wrote for another singer (Cilla Black.) It's very groovy to hear McCartney sing this song and I've always got a kick out of the silliness that is "Los Paranoias."
24. "I'm So Tired" – Another one of my favorites on The White Album (I have a lot of favorites.)
25. "I Will" – Yup, here's another one.
26. "Why Don't We Do It In The Road" – I love hearing McCartney go crazy with the vocals. This may be the best example of him going all over the place vocally.
27. "Julia" – A beautiful song and a great way to close out disc one just as it closes out disc one of The White Album.