An In-depth Look at the Songs on Side-One
1. Back in the U.S.S.R.
Pri­mary Song­writer: McCartney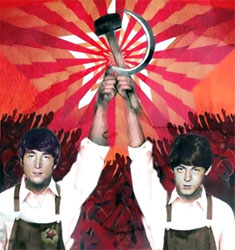 It's hard to think of any bet­ter way to start The Bea­t­les than with jet engines, social com­men­tary, and a por­trayal of the band's Amer­i­can influ­ence with a hard edge. Had "Back in the U.S.S.R." been writ­ten state­side dur­ing this period, it couldn't have been taken as par­ody, but Britain had blood-red com­mu­nists roam­ing its every­day streets, and this was Paul McCartney's bril­liant polit­i­cal com­men­tary and quite pos­si­bly one of the best songs he ever con­tributed to the Fab Four.
A per­fect case of tragedy meets com­edy in the pop­u­lar music realm, "Back in the U.S.S.R" is almost a con­tra­dic­tion of sorts. It was obvi­ous the U.S. had a con­flict with the Sovi­ets dur­ing this period, and it's rather inter­est­ing that McCart­ney arranged the song to share Beach Boys surf-guitar licks and vocal har­monies circa 1965. Let's also not for­get that the title is a play on Chuck Berry's "Back in the USA", and its hook car­ries the same punch that Berry's com­po­si­tions often did. It seemed like the entire band was hav­ing fun in a time of per­sonal turmoil—everyone except for Ringo Starr , who stormed off mid-session after argu­ing with McCart­ney over the drum part. McCart­ney, being the per­fec­tion­ist he is, laid down a fiery drum per­for­mance that was just what the doc­tor ordered.
John Lennon and George Har­ri­son played two of the bet­ter gui­tar per­for­mances, shar­ing the lead spot and chug­ging along with fast-driven chord breaks. It's hard to judge Lennon's char­ac­ter at this time dur­ing the Bea­t­les, con­sid­er­ing he wrote some of his most con­tro­ver­sial tunes for the band dur­ing the "White Album" sessions—but as he seemed largely to show lit­tle inter­est in McCartney's pop com­po­si­tions dur­ing this period, "Back in the U.S.S.R." was right up his alley. Lennon even found him­self play­ing solid rock 'n' roll tunes with the Plas­tic Ono Band, and whether he would come to admit it or not, this is one of the last truly great Lennon-McCartney partnerships.
There are many peo­ple that claim there is no place for satire in rock music, and although McCartney's image has been some­what tar­nished by the media in recent years, he still remains one of the mas­ters at tack­ling seri­ous issues in a comedic fash­ion. As the rest of the West­ern­ized world wor­ried about nuclear power sub­sid­ing in the Soviet Union, here's McCart­ney claim­ing things such as "Well the Ukraine girls really knock me out / They leave the West behind / And Moscow girls make me sing and shout / That Georgia's always on my my-my-my-my-my-my-my-my mind!" A Beach Boys-style anthem just went from surf­ing to ski­ing and furry hats are now all the rage. nuclear bombs? No way. nuclear women? You got it, boys. There had to be some Lennon input here sub­con­sciously, because McCart­ney tuned in one of the best hard rock vocals deliv­ered from below the belt.
"Back in the U.S.S.R." is not only a polit­i­cal and social com­men­tary, but it's also a step for­ward for the Bea­t­les dur­ing a period of tur­moil in their career. Starr aside, they all put their trou­bles away and deliv­ered one of the most fierce and joy­ful per­for­mances of their career. Forty years later, it sounds as fresh and fun as it did at the time of release. It may be time to pull this one out again dur­ing a time of con­flict in the same region, and help peo­ple real­ize again exactly what the Bea­t­les' made peo­ple see dur­ing the height of their career: that music truly can change the world.
—John Bohan­non
2. Dear Prudence
Pri­mary Song­writer: Lennon
Dear Pru­dence is a sun­rise of a song, a descrip­tion of the per­fect day that sets the Bea­t­les expe­ri­ence to a spe­cific place and time. Like much of The Bea­t­les, "Dear Pru­dence" was born in India and of the Bea­t­les' 1968 visit to Mahar­ishi Mahesh Yogi. Lennon's dis­tinc­tive gui­tar finger-picking is widely believed to have been taught to him by Dono­van, who was also in India to med­i­tate with the Mahar­ishi. Pru­dence is Pru­dence Far­row, sis­ter of Mia and such a fanat­i­cal devo­tee to the Mahar­ishi that she spent much of the retreat locked away in her room. At the tail end of a demo ver­sion of "Dear Pru­dence", Lennon cheek­ily explains, "All the peo­ple around her were very wor­ried about the girl because she was going insane. So we sang to her."
Dur­ing the record­ing of The Bea­t­les, a gap began to open between Lennon and McCart­ney, both per­son­ally and in their musi­cal styles. Although most of the Bea­t­les' cat­a­log is cred­ited to the pair, they didn't always write that way. Often one would write a piece of a song and the other would help to fin­ish it. By the time they recorded The Bea­t­les, how­ever, the rela­tion­ships between the Bea­t­les had changed and the col­lab­o­ra­tion between Lennon and McCart­ney had eroded.
Lennon was falling in love with Yoko Ono , who sud­denly appeared inside the record­ing booth. As Har­ri­son explains in the Anthol­ogy, "there was a lot of ego in the band". Instead of mak­ing deci­sions within the group, the writer of each song deter­mined how it would sound. Like "Back in the U.S.S.R.", the drum­ming on "Dear Pru­dence" is widely cred­ited not to Starr, but to McCartney.
The record opens with "Back in the U.S.S.R", a high-concept rave-up that sets the tone for McCartney's other con­tri­bu­tions to the record. "Dear Pru­dence" fol­lows, and does the same for Lennon. Some of his con­tri­bu­tions to the The Bea­t­les are in stark con­trast with the opti­mism of "Dear Pru­dence". But all of the songs share a raw intimacy.
"Dear Pru­dence" exudes a vul­ner­a­bil­ity that Lennon doesn't bother to hide behind musi­cal embell­ish­ments. He is more direct here than in any other song on The Beatles—including "Julia", which clearly has a more per­sonal sub­ject. The lyrics are sim­ple and sweet and it's more than a lit­tle ironic that, besides the Bea­t­les, the group most iden­ti­fied with "Dear Pru­dence" is Siouxsie & the Ban­shees. The punk band's 1983 cover ver­sion of the song was their biggest hit.
On "Dear Pru­dence", Lennon's request builds from a quiet entreaty to a full-blown peti­tion. In the song's final minute, as Lennon's voice breaks on the refrain, he is, for all intents and pur­poses, Lloyd Dobler in Say Any­thing, hold­ing a boom­box under a win­dow. It's hard to imag­ine how Pru­dence could resist com­ing out to play.
—Rachel Kipp
3. Glass Onion
Pri­mary Song­writer: Lennon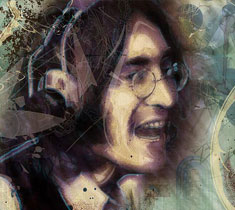 In his Chron­i­cles, Bob Dylan wrote, "A song is like a dream, and you try to make it come true. They are like strange coun­tries that you have to enter." By that def­i­n­i­tion, "Glass Onion" is an epic song­writ­ing achieve­ment. And yet, Lennon, the song's author, dis­missed it as "a throw-away song". Fans and crit­ics alike argue whether, to para­phrase Gertrude Stein, "there is any there, there", but as I explain below, despite Lennon's protes­ta­tions, "Glass Onion" holds sig­nif­i­cance that ele­vates it above many of the "bet­ter" songs in the Bea­t­les oeuvre.
One can begin with the title, about which—no surprise—there isn't any firm agree­ment. Lennon stated that a glass onion is an object that, after mul­ti­ple lay­ers were peeled away, would reveal a void core. Utter trans­parency through and through. The Emperor with­out any clothes. This inter­pre­ta­tion suited Lennon's belief that over-zealous fans had taken to over-analyzing every Bea­tle lyric—the urban leg­end of McCartney's death and its result­ing hys­te­ria, being a pri­mary exem­plar. This was why he said he teased lis­ten­ers with:
I told you about the wal­rus and me, man
You know that we're as close as can be, man
Well here's another clue for you all:
The wal­rus was Paul
~ John Lennon
On the other hand, didn't "glass onions" also refer to cas­kets with glass cov­ers? Thus, wouldn't such a title fuel the "Paul Is Dead" fable?
The epit­ome of "a John song", "Glass Onion" is labyrinthine, lay­ered, chal­leng­ing, con­found­ing, ironic, jar­ring, dreamy. As one of rock's first "post-modern" com­po­si­tions, it boasts inchoate inter­tex­tu­al­ity and ram­pant self-referentiality; licen­tiously mix­ing past and present, it blurs image and real­ity, jux­ta­poses sur­face and depth, and decom­poses truth through allu­sion to other pieces of a pre-existing puz­zle (of which it forms a part). The song ver­ily winks at its lis­ten­ers: chal­leng­ing them, in the final verse ("Try­ing to make a dove-tail joint, yeah"), to con­nect the dots. And how? By employ­ing a glass onion—which also can mean "mon­o­cle", a device that helps us to see more clearly.
The obvi­ous dots are the litany of Bea­t­les songs—eight in all—which are ref­er­enced: "Straw­berry Fields For­ever", "I Am the Wal­rus", "Lady Madonna" , "The Fool on the Hill", and "Fix­ing a Hole" , overtly; "There's a Place"—in the lyric "Well here's another place you can go"—likely; "Within You With­out You"—possibly—in the word "flow"; and "She Loves You"—I would aver—in Lennon's inten­tional rep­e­ti­tion near the end of (the dif­fer­ently inflected) "Yeah, yeah, yeah".
Although "Glass Onion" is the third cut on the album, it was the first to fea­ture Starr on drums. Thirty-four takes of the drum track were recorded and a sec­ond was laid two days later. A tam­bourine, piano, and eight strings were added in sub­se­quent ses­sions. The return of Starr is sig­nif­i­cant because it best cap­tures the degraded spirit under­ly­ing these ses­sions: per­son­nel feel­ing slighted, roles min­i­mized or usurped, con­tentious bick­er­ing, the prin­ci­pals some­times record­ing in sep­a­rate rooms—in the case of McCart­ney, work­ing solo.
Leg­end has it that much of the dis­cord was Lennon's fault: com­mit­ting the sac­ri­lege of invit­ing Ono into the midst. Lennon, him­self, sug­gests that the Wal­rus line had its ori­gins in the new dynamic.
At that time I was still in my love cloud with Yoko. I thought, 'Well, I'll just say some­thing nice to Paul, that it's all right and you did a good job over these few years, hold­ing us together'… The line was put in partly because I was feel­ing guilty because I was with Yoko and I was leav­ing Paul…
Only…it wasn't just that line. A care­ful read­ing sug­gests that the entire song is an ode to McCart­ney, homage to a deep friend­ship from a time now passed. Hence the ref­er­ences to a com­mon Liv­er­pool past ("cast iron shore") and the early songs com­posed together ("She Loves You") at Paul's home ("There's a Place"). Once dis­tinct tal­ents per­fectly com­ple­mented one another, souls were her­met­i­cally linked. The joint held fast.
And by twist­ing McCartney's own lyrics, Lennon was able to chart the group's evis­cer­a­tion. McCart­ney play­ing wet nurse to the frag­ment­ing fam­ily ("Lady Madonna try­ing to make ends meet—yeah"), band mem­bers plead­ing for rec­on­cil­i­a­tion or accord ("try­ing to make the dove-tail joint"); but, ulti­mately being unable to patch the irrepara­ble ("fix­ing a hole in the ocean"). Metaphoric tears become a tor­rent pre­cip­i­tated by the iter­ated peel­ing of onion skin: lay­ers of years, lay­ers of accu­mu­lated scar tissue.
Lennon's artis­tic gift lay in how he exter­nal­ized his inter­nal. The world he reduced to mean­ing­ful song was one of attach­ments forged and bro­ken. Leav­ing McCart­ney, cut­ting out on the Bea­t­les, would require exter­nal­iza­tion: expla­na­tion, jus­ti­fi­ca­tion, apol­ogy. In "Glass Onion" we encounter a lover's con­fes­sion, a partner's admis­sion of infi­delity. There is morning-after remorse, but also open-eyed real­iza­tion that a thresh­old of no return has been crossed. As the final stanza fades, George Martin's stac­cato strings declare iner­tia in decline, with the final pulses mim­ic­k­ing a ter­mi­nat­ing heart­beat. "Glass Onion" ver­ily pro­nounces: "Paul, we are dead. I want a divorce".
As paean to Lennon's lost love for his Bea­t­les, "Glass Onion" should be regarded not only as one of the more impor­tant Bea­t­les songs on the album, but in the band's entire cat­a­logue. As deep arche­ol­ogy, it stands as a musi­cal cipher, enabling us to decode the human dynam­ics and political-historical back-story of the for­ma­tion and impend­ing demise of rock's great­est band.
—Tim Holden
4. Ob-La-Di, Ob-La-Da
Pri­mary Song­writer: McCartney
The Bea­t­les can be regarded as rock's first truly sprawl­ing dou­ble album mess-terpiece, eschew­ing any sin­gu­lar sound in favor of stream-of-consciousness genre-hopping. That is, of course, what makes it so excit­ing: the total aban­don of the­matic unity alto­gether is the theme. It's not just unfocused—it's bril­liant. But the line between genre explo­ration and par­ody, pay­ing trib­ute and mock­ing, is awfully thin—just ask Ween—and "Ob-La-Di, Ob-La-Da" deserves some of the blame.
Sure, "Back in the U.S.S.R." is a Beach Boys/Chuck Berry knock-off, and "Yer Blues" spoofs British blues, but "Ob-La-Di, Ob-La-Da", a McCartney-penned foray into reggae-tinged nov­elty ter­ri­tory, is the least straight-faced of them all. For one thing, it has the dis­tinct honor of reg­u­larly appear­ing on lists of the worst songs of all time, includ­ing Blender's "50 Worst Songs Ever". (The rest of the band despised the track, and vetoed McCartney's request to release it as a sin­gle. Lennon famously referred to it as "Paul's granny shit"—until he got stoned to the gills and recorded the almost will­fully obnox­ious honky-tonk piano. McCart­ney had spent some­thing to the tune of 40 hours try­ing in vain to record a good take, work­ing with much slower tem­pos.) It's also the only Bea­t­les track ever to fea­ture a reg­gae skank, the rhyth­mic accent on the off-beat. Hell, how many Bea­t­les fans even rec­og­nize that word (skank) in a musi­cal context?
If I'm being indi­rect, it's because "Ob-La-Di, Ob-La-Da" is at once the worst and the most fun track on the album. Of all the Bea­t­les' songs, no other so openly embraces the corni­ness of a ready­made karaoke tune. What makes it even more hilar­i­ous is Starr's(?) seem­ing inabil­ity to inject into his drum­ming any of the funk that reg­gae syn­co­pa­tions demand—but hey, life goes on, bra. I'm reminded of my child­hood sum­mer camp, where "Ob-La-Di" was a reg­u­lar camp-wide sing-along. It was always the hippest coun­selors who faith­fully recited those cute lit­tle ele­ments from the record­ing that don't appear on a lyric sheet: the creepy laugh­ter, the infec­tious horn break­down dur­ing the bridge, the badass piano riff at 2:32. Other lit­tle acci­den­tal sounds are all over the record­ing, giv­ing it the screwing-around-in-the-studio vibe of the Beach Boys' Party! album. It's whim­si­cal, and cer­tainly tons more fun than the Offspring's insipid trib­ute, "Why Don't You Get a Job?"
The title isn't drug-addled gib­ber­ish, by the way. Niger­ian singer and congo player Jimmy Scott took credit for the phrase (basic trans­la­tion: "Life goes on, bra!"), and went so far as to sue McCart­ney for its use. Scott report­edly dropped charges after McCart­ney helped him with alimony pay­ments. The song is an ode to start­ing a fam­ily, touch­ing or trite, depend­ing on your mood. Desmond, the song's pro­tag­o­nist who presents Molly with a "20-carat golden ring", is a ref­er­ence to reg­gae leg­end Desmond Dekker . As for the name mix-up in the last verse ("Desmond stays at home and does his pretty face/ And in the evening she's a singer with a band"), McCart­ney intended to sing Molly's name, yet left the mis­take in for confusion's sake.
Ulti­mately, "Ob-La-Di, Ob-La-Da" is a pre­lude to the inevitable Lennon-McCartney musi­cal divorce. Lennon hated the song; he was drift­ing towards a solo career high­lighted by "Imag­ine" and the deeply per­sonal cathar­sis of Plas­tic Ono Band, in which there is no room for throw­away reg­gae trib­utes. McCart­ney was drift­ing towards…pop. It's still com­fort­ing to know that the Bea­t­les didn't take them­selves too seri­ously, and if that puts "Ob-La-Di" on some Worst Songs Ever poll—and more than a few karaoke machines—then so be it.
—Zach Schon­feld
5. Wild Honey Pie
Pri­mary Song­writer: McCartney
At first, it sounds like notes selected at ran­dom, a near-atonal hay­wire melody that might come from pluck­ing a rub­ber band around a lid­less cigar box. It's like a surg­ing swarm of Jew's harps sound­ing each of the metro­nom­i­cally alter­nat­ing notes. Then we set­tle uneasily into the song's fum­bling stac­cato rhythm, which could only have been dis­cov­ered by acci­dent, a plod­ding stomp with no hint of back­beat that works itself out awk­wardly and improb­a­bly in seven mea­sures rather than the eight you'd expect. A hobo cho­rus of ragged falsetto voices sing the phrase "honey pie" as a derelict war cry rather than a term of endear­ment; when one of them war­bles "I love you" at the end of the track's minute of maun­der­ing, it sounds more lech­er­ous than sin­cere. Then almost before we have a chance to process all that we've heard, a florid fla­menco gui­tar fig­ure ush­ers us into the world of "Bun­ga­low Bill". So it goes with McCartney's "Wild Honey Pie".
As a mid-album-side palate cleanser (espe­cially nec­es­sary after the inane "Ob-La-Di, Ob-La-Da"—dis­missed by Lennon as "granny shit"), "Wild Honey Pie" is pecu­liarly aggres­sive, about as far from the syrupy bal­lads on which he's made his for­tune. On the track, McCart­ney works as a one-man band, and it's pal­pa­ble how much this suits and pleases him at this point in the Bea­t­les' dis­in­te­gra­tion. The amount of fun he seems to be hav­ing with him­self is almost anti­so­cial, and it's plain that McCart­ney no longer needs col­lab­o­ra­tion to stoke his creativity.
"Wild Honey Pie" presents McCart­ney at vir­tu­ally his most unfet­tered; noth­ing else he would make for the Bea­t­les would be as strange (assum­ing you don't count the Mag­i­cal Mys­tery Tour film). In Barry Miles's biog­ra­phy, McCart­ney remem­bers the song as "a lit­tle exper­i­men­tal piece".
It was very home­made; it wasn't a big pro­duc­tion at all. I just made up this short piece and I mul­ti­tracked a har­mony to that, and a har­mony to that, and a har­mony to that, and built it up sculpturally.
As a kind of delib­er­ately arty aural sculp­ture, "Wild Honey Pie" func­tions as the dialec­ti­cal response to his nos­tal­gic, music-hall ditty "Honey Pie", illus­trat­ing the two McCart­neys that were begin­ning to diverge at this point in his career. One is the Mr. Mel­low who is stolidly wed­ded to tra­di­tional forms and con­tin­u­ally sought to outdo him­self in mawkishness—the evil McCart­ney that would spew out "The Long and Wind­ing Road" and "My Love" and ulti­mately "Ebony and Ivory". The other McCart­ney, though, is a rest­less artiste heed­lessly chas­ing his muse into play­ful self-referentiality and an odd, mad­cap min­i­mal­ism. This McCart­ney would give us the sub­lime Ram (1971) and the 1990s techno exper­i­ments of "the Fireman".
Unlike Lennon, whose exper­i­men­tal­ism man­i­fests in the arbi­trary tape-loop cacoph­ony of "Rev­o­lu­tion 9", McCart­ney seems more inter­ested in test­ing the lim­its of hook­i­ness than test­ing lis­ten­ers' patience and freak­ing them out. The freaki­est thing that hap­pens dur­ing "Wild Honey Pie" is hear­ing how the incon­gru­ous ele­ments gel in 52 sec­onds flat to become coher­ent and mem­o­rable, a sui generic minor McCart­ney mir­a­cle. His first solo album would end up being full of these home­spun throw­away scraps that defy you to for­get them.
—Rob Horn­ing
6. The Con­tin­u­ing Story of Bun­ga­low Bill
Pri­mary Song­writer: Lennon
Even on the most spir­i­tual of jour­neys, when­ever there's a crowd involved, you are guar­an­teed to have at least one ass­hole in the mix.
That, in per­fectly blunt terms, is the gen­eral crux of "The Con­tin­u­ing Story of Bun­ga­low Bill". As leg­end has it, when the Bea­t­les were on their much-publicized stay with the recently-departed Mahar­ishi Mahesh Yogi for a tran­scen­den­tal med­i­ta­tion retreat at his ashram, one of their fel­low stu­dents was a wealthy Amer­i­can woman by the name of Nancy Cooke de Her­rera, whose son, Richard A. Cooke III, made a most con­tro­ver­sial visit to the camp to see his mother. Appar­ently both were big fans of the Bea­t­les, and were said to have had friendly rela­tions with all of them but Lennon, who main­tained a cyn­i­cal and dis­tant rap­port with them, because they were rich white Amer­i­cans at an Indian tran­scen­den­tal med­i­ta­tion camp, and appar­ently doubted that the inten­tions of their pres­ence were wholly sincere.
Well, as is inter­preted by Nancy Cooke de Her­rera in her book about her expe­ri­ences with the Mahar­ishi, Beyond Gurus, Cooke III, who also went by the name Rik, and his mother joined a group from the camp on a tiger hunt­ing excur­sion on ele­phant. How­ever, when one of the tigers charged at the herd of ele­phants, it was Rik who shot it dead in a knee­jerk reac­tion and got all puffed up over it, going so far as to take a pho­to­graph of him stand­ing over his tro­phy kill to brag over with his frat bud­dies back in the U.S.
When the party returned from their adven­ture, Lennon quickly called out Rik on his deci­sion. "Wouldn't you call that slightly life-destructive?" he quizzed sar­don­ically, mind­ful of his sur­round­ings at the ashram. To be pub­licly lam­basted by a Bea­tle, on a spir­i­tual jour­ney no less, surely must have been a low point in the life of Richard A. Cooke III. Mean­while, Lennon chose to write this silly camp­fire sing-along in response to the sit­u­a­tion, a song that cer­tainly appealed more to chil­dren than the adults actu­ally going out to their local Korvette's and pick­ing up The Bea­t­les back on Thanks­giv­ing week in 1968.
"The Con­tin­u­ing Story of Bun­ga­low Bill", at 3:05, recounts the story of the tiger hunt in Lennon's own scathingly Eng­lish way. "It was writ­ten about a guy in Maharishi's med­i­ta­tion camp who took a short break to shoot a few poor tigers, and then came back to com­mune with God," he told Play­boy magazine.
"Bun­ga­low Bill"—also the only Bea­t­les track to fea­ture a female lead vocal, with Ono squeak­ing out the line, "Not when he looked so fierce", the sheep­ish call to Lennon's snide response, "His mummy butted in"—might not be the most beloved Bea­t­les song. Critic Clark Col­lis took a swipe at it in a review of the new Oasis album in Enter­tain­ment Weekly just recently, call­ing Dig Out Your Soul "more 'Bun­ga­low Bill' than 'Eleanor Rigby'". But if you were a lit­tle kid born between 1968 and 1975, there's a pretty sport­ing chance you know the lyrics to "Bill" bet­ter than "Ba Ba Black Sheep".
—Ron Hart
7. While My Gui­tar Gen­tly Weeps
Pri­mary Song­writer: Harrison
My intro­duc­tion to the Bea­t­les came through my mother who hap­pened to have been born at an ideal time to appre­ci­ate every stage of their evo­lu­tion: she was young enough in 1964 to join the legions of scream­ing girls across Amer­ica, singing along to "I Want to Hold Your Hand" on The Ed Sul­li­van Show yet mature enough to appre­ci­ate the group through their more artis­tic, studio-hermit years. An impor­tant aspect about her influ­ence on my expe­ri­ence with their music is the fact that she always cited Har­ri­son as her favorite Bea­tle. For me, the fact that such a pow­er­ful force in my young life felt a cer­tain way about a band whose albums I began to immerse myself in at a very young age aug­mented my expe­ri­ence with a height­ened level of intrigue into all things George. The Har­ri­son com­po­si­tions became my typ­i­cal start­ing point for dis­cov­ery into any Bea­t­les album.
Choos­ing a favorite Har­ri­son Bea­t­les song is as utterly triv­ial as deter­min­ing the best song on The Bea­t­les. Upon first lis­ten, how­ever, no song in either cat­e­gory struck me with such bril­liant imme­di­acy as "While My Gui­tar Gen­tly Weeps". It is an emo­tion­ally, melod­i­cally, and struc­turally com­plex mas­ter­piece. Although it received lim­ited atten­tion upon release, the song has since gained sta­tus a gui­tar rock sta­ple, as a cer­ti­fi­able major Bea­t­les work, and as per­haps the defin­i­tive state­ment of Harrison's career.
The sup­posed inspi­ra­tion for Harrison's first com­po­si­tion on the Bea­t­les' his­toric dou­ble album came about through his stud­ies of the I Ching, an ancient Chi­nese clas­sic text, which Harrison—as quoted in the 1980 book of his rec­ol­lec­tions, I Me Mine—described as seem­ingly "based on the East­ern con­cept that every­thing is rel­a­tive to every­thing else, as opposed to the West­ern view that things are merely coin­ci­den­tal". The leg­end of "While My Gui­tar Gen­tly Weeps" is that Har­ri­son, while vis­it­ing his par­ents' home, com­mit­ted to writ­ing an entire song by apply­ing this the­ory of rel­a­tivism to ran­domly cho­sen words out of a ran­domly cho­sen book; those words hap­pened to be "gen­tly weeps".
Har­ri­son first wrote "While My Gui­tar Gen­tly Weeps" as an organ-accompanied, acoustic gui­tar com­po­si­tion. His fel­low Bea­t­les were rumored to have approached this ini­tial incar­na­tion with com­plete indif­fer­ence. The level of annoyed dis­plea­sure with early takes among the band is believed by many to be the only doc­u­mented occa­sion in which Harrison's actions were a pri­mary source of inner Bea­tle tur­moil. After a failed elec­tric rework­ing, Har­ri­son invited Eric Clap­ton to assume lead gui­tar for the record­ing ses­sion which, accord­ing to Har­ri­son, "was good because that then made every­one act better…they all took it more seri­ously". The ses­sion ended up pro­duc­ing the offi­cial album ver­sion after, as admit­ted by Har­ri­son, Clapton's great yet "not Beat­ley enough" gui­tar work had to be put "through the ADT to wob­ble it up a bit". (Due to legal rea­sons, Clapton's guest appear­ance was uncredited.)
"While My Gui­tar Gen­tly Weeps", com­pared with other Bea­t­les com­po­si­tions, is super­fi­cially famil­iar in its verse, bridge, verse, gui­tar solo, bridge, verse, outro struc­ture. The unique­ness of the com­po­si­tion lies in the melodic and lyri­cal struc­tures of the verses and bridges. The down­beat, minor-keyed, four-line verses tran­si­tion into the pleas­antly sub­lime, major-keyed bridges. Wide-ranging, pes­simistic obser­va­tions make up the odd lines of each verse while the even lines are the famil­iar refrains of "While my gui­tar gen­tly weeps" and then "Still my gui­tar gen­tly weeps". The most dis­tinc­tive aspect of the com­po­si­tion lyri­cally is the fact that the words of the bridge are com­pletely changed from its first occur­rence to its sec­ond while the afore­men­tioned single-line, inner-verse refrains rep­re­sent the sole lyri­cal con­sis­tency through­out the track.
The actual con­tent of the lyrics of "While My Gui­tar Gen­tly Weeps" can most eas­ily be inter­preted as a lament of love lost, not par­tic­u­larly on a per­sonal level, but more in a global sense. The open­ing line of the song, "I look at you all / See the love there that's sleep­ing", implies a sense of large-scale desen­si­ti­za­tion. The open­ing line of the sec­ond verse, "I look at the world, and I notice it's turn­ing", evokes neg­a­tive sen­ti­ments toward the osten­si­ble indif­fer­ence shown by some in acknowl­edg­ing such a loss of com­pas­sion. The con­stant refrain about the per­pet­ual, gen­tle weep­ing of his gui­tar puts Harrison's real power to change things into an exis­ten­tial per­spec­tive. Even as part of the most influ­en­tial artis­tic force in the world, he is still sim­ply a musi­cian. His great­est weapon against the ills of the world is his music which, in the grand scheme of things, only amounts to a gen­tle weep.
—A.J. Hen­riques
8. Hap­pi­ness Is a Warm Gun
Pri­mary Song­writer: Lennon
The Bea­t­les' first side ends with an intri­cate mas­ter­piece that rep­re­sents a united—and unusu­ally won­der­ful and weird—effort amidst so much indi­vid­u­al­ity. Report­edly McCartney's favorite "White Album" song, "Hap­pi­ness Is a Warm Gun" is also clas­sic Lennon: a lyric mix­ture of the psy­che­delic ("She's well acquainted with the touch of the vel­vet hand / Like a lizard on a win­dow pane"), the dis­tinctly British ("Lying with his eyes while his hands are busy work­ing over­time / A soap impres­sion of his wife which he ate and donated to the National Trust"), the obvi­ously sex­ual ("When I hold you in my arms / And feel my fin­ger on your trig­ger"), the per­sonal ("I need a fix", reflect­ing Lennon's drug depen­dency), and the polit­i­cal ("Hap­pi­ness is a warm gun" came from a mag­a­zine arti­cle about the Amer­i­can gun lobby).
But beyond its potent poetry of reli­gion, sex­u­al­ity, vio­lence, and vision, "Hap­pi­ness" is one of the Bea­t­les' most musi­cally sophis­ti­cated tunes. It is not built on verses and cho­ruses but rather from four or five dis­tinct sec­tions that build in inten­sity. Lennon claimed it as a minia­ture history of rock 'n' roll, and that's fair enough. It opens with a del­i­cate verse of gui­tar and voice only, shift­ing upward as bass and drums enter. There is a sud­den change to 3/4 time for a brief, gut­tural blues gui­tar solo that pre­cedes "I need a fix". Just as sud­denly, the triple meter double-times to 6/8 while Lennon starts to sing "Mother Supe­rior jump the gun", slow­ing to 3/4 on the sec­ond half of the phrase. Which hap­pens six times. But with a mea­sure of 4/4 on the end of the every other rep­e­ti­tion. Got it? Need­less to say, the famil­iar doo-woppy "Hap­pi­ness is a warm gun / Bang-bang, shoot-shoot!" is back in 4/4 again, but Lennon's spo­ken inter­lude ("When I hold you…") is in 3/4 again.
All this intri­cacy might sound like sym­phonic prog-rock run amok, except that it takes a scant 2:43, with each sec­tion as con­cise as a dot of color in a Seu­rat paint­ing. And the won­der of the song is pre­cisely this almost shock­ing brevity and incon­gruity: no sec­tion repeats, and each part seems like a new world, a rev­e­la­tion. While it is clear that "Hap­pi­ness" glues together sev­eral dif­fer­ent tunes, there is also flat-out artistry in how these dis­parate pieces echo off each other. The tog­gling between duple and triple meter gives the tune bal­ance, even as the inten­sity of each sec­tion ramps ever upward. There is also a bal­anc­ing of roman­tic imagery (start­ing with a girl and a man) and vio­lent imagery, allow­ing Lennon to be alter­nately provoca­tive ("Mother Supe­rior" mixed together with "gun") and play­ful (is it the woman's trig­ger or the gun's trig­ger he has his fin­ger on?). As always, Lennon is aware of how the com­mod­i­fi­ca­tion of the Bea­t­les can be exploited: the title of the song is a bit­ter joke about the gun lobby, but also a ref­er­ence to the cud­dly catch-phrase from Peanuts of the time, "Hap­pi­ness Is a Warm Puppy". The joy of this play is that it is also sonic: the beau­ti­ful reverb on the open­ing gui­tars doesn't even last a minute, but the vocal falsetto dou­bling that starts with "I need a fix" is its own kind of candy, which then devel­ops into the mock­ing har­mony of "Bang-bang, shoot-shoot".
All of which is to say: Wow. Only five years had passed since "I Want to Hold Your Hand", yet the Bea­t­les were now writ­ing and record­ing com­plex poetic suites rather than verse-chorus pop tunes. Radio­head appar­ently found "Hap­pi­ness" of inspi­ra­tion when work­ing on its own multi-part tune, "Para­noid Android", for OK Com­puter. But what had not changed for the Bea­t­les was their keen aware­ness that rock 'n' roll—the sub­lime art of the three-minute symphony—was worth an invest­ment of great wit and pas­sion. "Hap­pi­ness Is a Warm Gun" is catchy like a pop song, provoca­tive like protest art, effort­lessly com­plex and yet off-the-cuff funny. Which is to say: it is the apoth­e­o­sis of "Beatle-esque".
—Will Lay­man
Note: The sound files used on this page are demos, out-takes and/or alter­nate mixes selected from this web­sites' authors per­sonal col­lec­tion and to his knowl­edge have never appeared on any offi­cial release by the Bea­t­les.