Much has been written and much has been said regarding the Beatles White Album
The articles reprinted here on this site represent just a small sampling of some of the material written on or about this album. Some of these articles are fairly recent, while others date back to the albums original release. Either way I'm sure you'll find something of interest in each one of them.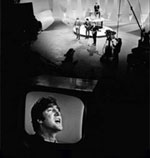 Editors Note: I was just nine years old when I first saw the Beatles perform on a cold February night back in 1964. They had just made their first of three appearances on "The Ed Sullivan Show". As I sat watching that old black and white television set of ours I suddenly saw the light, a light composed of a thousand different colors. I've loved all their albums, an each occupies a special place in my memory. But the one album thats always seemed most special to me has been the White Album. Why this one particular album? Who knows. Maybe its that there's something for everyone on that album. Its strength derives from its diversity. If I may be allowed to use a tired cliché, it truly has stood the test of time.

Mouseover the Articles menu button (above) to view a drop down listing of those articles.