A Plain White Square, and Yet So Fascinating
By Allan Kozinn | Published: 22 February 2013 | Source: The New York Times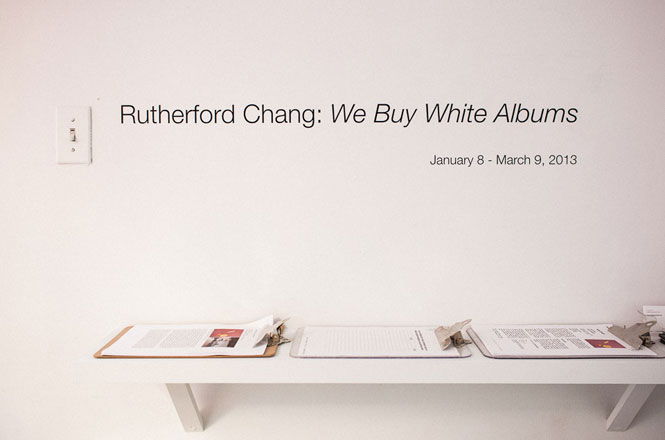 On a rainy afternoon recently Rutherford Chang sat at a desk near the window of the Recess Gallery in SoHo, listening to "The Beatles" — the two-disc set, released in 1968, and commonly known as "The White Album," and showing a visitor a computer printout listing of several hundred copies of the album he owns.
Mr. Chang, a soft-spoken, 33-year-old artist who was born in Houston and grew up in California, is fascinated with "The White Album," particularly with first-edition copies. As readers of a certain age will recall, the original release sported an embossed title, and each copy carried a serial number, as if it were a limited edition. Actually, about three million numbered copies were printed in the United States before EMI stopped numbering them in 1970. The embossed title was replaced with gray printing in 1975.
Through March 9 Mr. Chang is presiding over "We Buy White Albums," an installation at Recess devoted to this fascination and its artistic ramifications.
"I was interested in the different ways that the covers aged," said Mr. Chang, holding up one as an example. "Being an all-white cover, the changes are apparent. The serial numbers made collecting them seem natural, and the more I got, the more interesting it became. As you see, many of them are written on, and each has a story. The accumulation of the stories is part of it. But it's also about how the physical object — the record — just doesn't exist anymore" in an age when music is sold through downloaded files.
Mr. Chang, whose previous works have included "The Class of 2008," a show built of stipple portraits originally published in The Wall Street Journal, and "Cheng Zhang De Fan Nao," a video installation based on the pilot episode of "Growing Pains," has set up his installation as an old-fashioned record shop — albeit one that stocks only one title, and doesn't sell copies.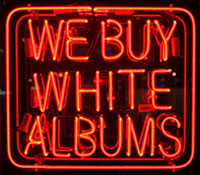 A square, red neon sign in the gallery's window gives the show's title, and a wall is lined with racks holding copies of "The White Album" — some in near-mint condition, others bearing former owners' names, psychedelic renderings of "The Beatles," colorful drawings or, in many cases, patterns created by rotting cardboard (which also contributed an atmospheric hint of mildew).
A long table bearing record bins runs through the gallery, with a turntable and amplifier at each end, and divider cards noting the serial numbers in each section. The lowest-numbered copy Mr. Chang has is 13539. The highest is A3129174 — although that one is the cover only; the discs are missing.
He has bought many of these discs online and from used record shops; others have been donated. He said that the most he has paid for a copy is $20, although he was recently offered copy No. 100. "I was afraid even to ask the price," he said.
In a way, Mr. Chang's project is an artwork about an artwork. "The White Album" jacket was designed by the British Pop artist Richard Hamilton, who proposed its almost entirely blank cover as a deliberately minimalist response to the elaborate jacket of the band's previous album, "Sgt. Pepper's Lonely Hearts Club Band." It was Hamilton's idea to use the group's name as the title (the album was originally to have been called "A Doll's House," after the Ibsen play), and to print the song titles on the inner gatefold rather than on the back cover.
I keep wondering if Richard Hamilton foresaw that this would happen when he designed the cover back in 1968.
~ Rutherford Chang
The embossing and sequential numbering were his ideas as well, as was the notion of including a photo collage poster and individual portraits of the four Beatles as inserts. He also anticipated Mr. Chang's ideas about how the album would become weathered: he proposed including a coffee stain, but the idea was dropped when the ring proved difficult to reproduce properly.
Printing this seemingly simple cover proved surprisingly difficult. One of the main American printers, Queens Litho, printed the spine information and the inner gatefold, and then sent the cover slicks to Brooklyn, where they were embossed and numbered. A third plant, on Long Island, affixed the slicks to cardboard jackets, which were then sent to a pressing plant in Scranton, Pa., where the discs were pressed. (Covers were also produced in the Midwest and on the West Coast.) The process is a measure of how far EMI was willing to go to keep the Beatles happy.
You can find anomalies in Mr. Chang's collection. One cover (No. 025640, from Argentina) is embossed "Los Beatles," and lists the song titles in Spanish. Copy No. A0458104 is a misprint: the inner gatefold is printed upside down. European pressings opened on the top, rather than on the sides, and had black inner sleeves. And oddly, there seem to be no discs anywhere, Mr. Chang says, bearing numbers between 2700000 and 2800000.
Mr. Chang said that the final element of his project will be a recording on which several hundred copies of "The White Album" — that is, every copy he listens to during the show — are electronically overlaid. He will also produce an image made of several hundred overlaid covers.
He plans to continue collecting copies, although he has scant hope of obtaining more than a small fraction of the three million numbered sets.
"Right now I have 694 copies," Mr. Chang said, and then looked at a flat, 12- by 12-inch cardboard mailer, just arrived, on his desk. "This will be No. 695."
"We Buy White Albums" is on view through March 9 at Recess Gallery, 41 Grand Street, SoHo; (646) 863-3765, recessart.org
Note: A version of this article appeared in print on February 23, 2013, on page C3 of the New York edition of the New York Times with the headline: A Plain White Square, and Yet So Fascinating.
Click here to read the interview with Rutherford Chang that appeared on the Dust & Grooves website.