The Beatles, Donovan and India
By Andreass | Published: 17 December 2006 | Source: Music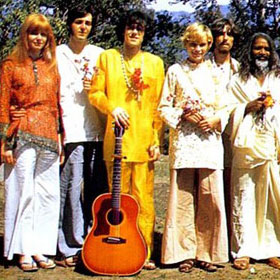 Many Beatles fans are unaware of the great impact British folk-singer and guitarist Donovan (Donovan Philips Leitch) had on the Beatles and their music in 1968. Donovan was a friend of the Beatles, and when the group traveled to Rishikesh in India to study Transcendental Meditation in February 1968, Donovan came along. There were several other westerners present at the Rishikesh camp too, including Mike Love of the Beach Boys. Many of the songs that would later feature on the Beatles' 1968 album entitled The Beatles – also known as The White Album because of its white cover – emerged during the group's stay in India.
One reason for this was the fact that Donovan was there. Between the meditation classes, he taught John, Paul and George a special finger-picking guitar style which can be traced on many of the songs on The White Album.
Take Paul McCartney's Blackbird, for example. It was written in India, and it's a prime example of how Donovan's guitar-technique was applied by the Beatles. Listen how elegantly Paul picks the strings and how the guitar pattern supports the lead vocal brilliantly.
Acoustic guitars had arguably not sounded quite as sophisticated as that on previous Beatles recordings, perhaps with a few exceptions, such as Paul's I've Just Seen A Face from 1965 and Lennon's Girl from 1966. The Beatles had often used the acoustic to play rhythm guitar – which of course worked brilliantly – but the Donovan finger-picking style added yet another dimension their music.
Another of Paul's songs, Mother Nature's Son, also took shape in India. Also here Donovan's influence is obvious. The lyrics, meanwhile, are said to have been influenced by a lecture given by meditation guru Maharishi Mahesh Yogi, a central figure at the camp.
Paul was of course not the only Beatle who was inspired by Donovan's guitar technique. Just listen to the songs Julia and Dear Prudence, both penned by John Lennon. Dear Prudence is actually about a specific incident that occurred at the Rishikesh meditation camp. The song is really about Prudence Farrow, sister of actress Mia Farrow, who also stayed at Rishikesh. Prudence, however, preferred to meditate in solitude in her chalet. In the end Lennon and George Harrison had to convince her to come out and join the others: Dear Prudence, won't you come out and play?
Other songs written or inspired by the stay in India were Lennon's The Continuing Story Of Bungalow Bill and Sexy Sadie, plus McCartney's Why Don't We Do It In The Road and Wild Honey Pie.
Sexy Sadie was originally called Maharishi after Maharishi Mahesh Yogi, the meditation guru. After having stayed in India for a while, Lennon lost trust in Maharishi, apparently because of a rumor that the guru had made sexual advances to a female member of the course. The Continuing Story Of Bungalow Bill was about college graduate named Richard Cooke III who visited the Rishikesh community because his mother Nancy was staying there. They did indeed go tiger hunting, just like the song suggests.
Paul McCartney later said he got the idea to Why Don't We Do It In The Road? in India, where he had seen two monkeys copulating in the road. Wild Honey Pie was a sing along that also emerged in Rishikesh.
The first Beatle to leave India was Ringo, who returned to London in early March. McCartney soon followed, while Lennon and Harrison left in April.