The Experimental "Revolution 1 (Take 20)" Surfaces
Beatles fans still patiently waiting for Paul McCartney to release the band's 1967 sound collage "Carnival of Light" were surprised by an even better gift recently as a 10-plus minute version of The White Album's "Revolution 1″ leaked onto the Internet, giving fans a never-before-heard listen of what the White Album sessions must have been like.
The track makes it clear why seemingly unrelated "Revolution 1″ and the maniacal "Revolution 9″ sound collage share the same name. In "Revolution 1 (Take 20)" John Lennon steers an extended, more experimental version of "1″ to its breaking point, using it as a conduit before launching into the avant-garde "no.9"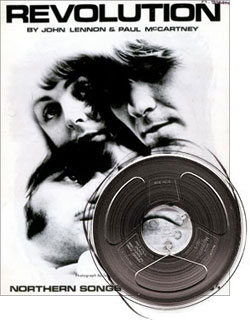 Exper­i­men­tal Revolution 1

- (take 20)
Note: audio cuts in and out before the music begins
The song first surfaced on an upcoming, Europe-only bootleg "Revolution: Take… Your Knickers Off", a nod to Lennon saying "Take your knickers off and let's go" before "Revolution 1 (Take 20)" started rolling. As for how the song leaked out, that's an even bigger mystery. According to Mark Lewisohn's book The Beatles: Recording Sessions, only two copies of the take were made when recording the song was completed on June 4, 1968. One copy left the studio with Lennon that day, and the other remained behind. It's unclear which copy appears on the bootleg, nor how the Revolution makers even acquired it.
The recording is similar to the White Album version of Revolution 1, with various differences including the absence of the opening lead guitar. There are also a number of sound effects and vocals which didn't make the final version, including a chorus of "Mama, dada, mama, dada" sung by George Harrison and, possibly, Paul McCartney's then-girlfriend Francie Schwartz.
The most fascinating part of this recording begins where the album version fades out. In this mix the track becomes a bed for improvisations and ad-libs, which later formed the basis of Revolution 9. Although it lacks many of the sound effects of Lennon's sound collage, the links between the two recordings can be clearly heard.
This rough mix was taken away by John Lennon after it was made. A previous version of the mix has been available for some time, but featured a Yoko Ono monologue over the top of much of it. This clean mix, of better quality than previously-heard bootlegs, is being heralded by Beatles fans as a significant find.
"As someone who's heard, I'd say, 99.8 percent of the Beatles music that has leaked onto bootleg, this is really interesting," Beatles expert Richie Unterberger told EW.com. The site also reports Lennon was lying on his back while recording the vocals to make his voice sound different. 2009 is shaping up to be a big year for Fab Four fans still clamoring for unreleased material. Talking about "Carnival of Light" back in November, McCartney said "The time has come for its moment. I like it because it's like the Beatles free."
The article above was compiled from various internet sources | 27 February 2009